Services
Ergonomics Assessments

Ergonomics Studies

Industrial and Office Ergonomics

Walk-through and Complete Workstation Assessments

OSHA Compliance, Safety and Prevention Services

Teaching, Lunch Series and Seminars

Custom Solutions for your Unique Needs
Wellness Consulting: Develop integrated wellness programs that work and save money.
CONTACT US: 216-369-9039
Ethiam's Approach
Our solutions do not begin with pre-packaged products or programs; they begin with learning about your specific challenges and goals.
Health insurance premiums rising quickly?
Spending too much on workers' compensation cases?
Dealing with increased absenteeism and high employee turnover rates?
Aiming for increased employee productivity?
Want to improve your employees' work satisfaction and create a better workspace?
Does your board think you're spending too much on a wellness program with no results?
Sound Familiar?
Your VP of Finance fell off the treadmill while reading your yearly report and trying to follow your wellness efforts.
Sound Familiar?
Anyone else think the chairs and work stations are really uncomfortable?
Sound Familiar?
Jane took seven sick days last month, and she just called to take off the day again?
Sound Familiar?
Mark seems tired lately, and says he's fatigued when he gets home. Anything we can do to help?
Sound Familiar?
Feedback on our wellness program isn't great. How can we get more people to participate in a fun way?
Ergonomics Consulting

Office Ergonomics / Workstation Evaluations and Design
Office Ergonomics / Workstation Evaluations and Design
Ergonomics Assessments reduce instance of work-related injuries and illness, chronic pain and promote productivity, workplace safety and compliance. Services include recommendations and installation of appropriate desks, chairs, keyboards, and more.

In-House Injury Prevention
In-House Injury Prevention
Chronic back pain alone impacts more than 10% of the workforce. Every $1 spent on prevention averages $3-$6 in savings. Set up your workplace to prevent injuries and reduce costs and liabilities.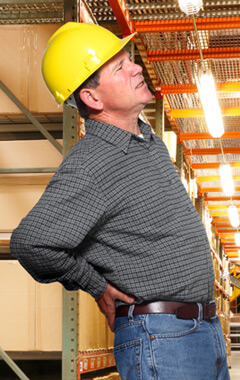 Industrial Ergonomics and Safety
Workplace set up fully determines success of your business and safety of your workforce. Services range from Walk-through Assessments to full long term Ergonomic Studies aimed to boost productivity and prevent injuries. Customized ergonomics reporting and workplace design recommendations.

Ergonomics for Productivity and Efficiency
Ergonomics for Productivity and Efficiency
Our Ergonomics Specialists can assist with identifying inefficiencies and optimize your business work flow. Proper workplace processes can optimize production, decrease loss of productivity, speed up processing and increase your bottom line.

Ergonomics for Healthcare Cost Reduction
Ergonomics for Healthcare Cost Reduction
Companies who use our Ergonomics Services see as much as 80% reduction in medical costs over time, as well as reduced illness/injury-related liabilities.

Ergonomics Support Services
Ergonomics Support Services
Ongoing partnership with our clients allows for continuous support of their safety and prevention initiatives. Our Ergonomics Certified Professionals assist to maintain work place set up and compliance on-ongoing basis. This ensures that new hires and promoted employees operate in safe and ergonomically correct environment.

Our Team of Certified Ergonomists
Our Team of Certified Ergonomists
All our Industry Certified Ergonomists are direct employees of Ethiam Corporation. They have backgrounds in kinesiology, body mechanics, injury prevention, and rehabilitation. They will travel to your work site when and where you need them.
Identify and build your wellness corporate culture. Wellness programs should not cost you a fortune but should empower your company to grow and stay competitive.
Health and Wellness Consulting
Analyze Existing Programs: Take a fresh look at your existing wellness program, its costs and ROI. As your business plan changes so should your wellness program. Our wellness experts can help you to tweak what you already have in place to reduce costs, align your wellness program with your business plan and your employee needs, corporate culture and workforce demographics.
Move from a Wellness Program to a Wellness Culture: Let your employees have full ownership of wellness.  Move away from offering random wellness benefits that drain your budget and do not yield any return. We can help you to build a comprehensive package of wellness benefits that will save you significant percentage of your wellness expense and provide a positive return. Make wellness be part of your culture.
Develop Programs that actually work: Improve employee morale and retention with on-site programs that fit corporate culture and employee needs, along with education in wellness initiatives and injury and illness prevention.
Diagnostic and Rehabilitation Services: Early identification and treatment will help to reduce absenteeism, reduce health insurance costs and number of claims, and help employee retention. Let workplace safety and injury prevention programs become fully integrated in your work processes. Your workers will feel important and this will positively affect your ROI.
On-Site Rehabilitation and Health Clinics: Speed up recovery times and minimize lost productivity with on-site therapy and rehabilitation programs. On-site support programs ensure that injured individuals can return to work as soon as possible and do not take unnecessary time off.